Normally here at DIY Blacksmithing, we just focus on blacksmithing:
interviews with blacksmiths
, blacksmith tools, blacksmith how-to's...
But after I met up with Sarah Kirkham of
Tactile Craftworks
over the holidays, I knew it was necessary to explore what she and her business partner, Anna Warren, are creating.
The Atlas Series - Milwaukee journal
In the following interview, you will find amazing leatherwork, cool tools (even some hammers), and the story of their successful Kickstarter campaign. Most of all, I hope you find some inspiration if you've ever tried to make something, you've made something, or you are thinking of making something. Without saying any more, I'll let Sarah and Anna tell it in their own words.
---
Leatherworkers/Makers/Small Business Owners:
Sarah Kirkham & Anna Warren | Tactile Craftworks | Milwaukee, Wisconsin
How long have you been working with leather/crafting and what/who got you started?
Hand-tooled leather flasks
Sarah remembers doing some basic leather working (stitching and stamping) in camp-type environments when she was a kid. It was something she kept going back to, and decided to try her hand at traditional leather tooling for a final project in a Period Styles class in college. She carved a reproduction of a Spanish Colonial chair back, and never put the tools down.
We both have been crafting for most of our lives, and have degrees in Theater Design and Technology. We met at the
Milwaukee Repertory Theater
when we were hired on the same day as prop artisans in 2008. We would spend our days dreaming of starting our own business while finishing work for the theater at adjacent tables.
We made our first collaborative leather journals in 2009, and have been selling at fairs since then. We made it into our first store in 2013.
Do you create items full-time for Tactile Craftworks or is it a side gig?
We established as an LLC a year ago, and left our jobs at the Milwaukee Rep in April of last year. To our huge delight, this is full-time for both of us.
We did each take part-time jobs at other theaters for a bit of steady income this year, but we're on track to completely jump off the cliff this summer. We both consider Tactile Craftworks to be our primary focus. It feels like a dream to say it!
Can you say a bit about the cool, specialized tools you use?
The Swivel Knife
We love how visceral working with leather is: it's all sharp swivel knives, metal stamps, and rawhide mallets. While that rough process is always apparent in the leather, we're careful and intentional about achieving refined results.
We are always playing with the perceptions of leather as a material, how it is substantial and durable, but also seen as fine and handsome. We aim to create products that balance these qualities.
Over the last couple of years we befriended some employees of the science museum here in Milwaukee (
Discovery World
) who showed us some of their specialty lab tools, like 3D printers and CNC pattern cutters. We lost our minds when they showed us their laser cutters, then showed us a sample they had tried of laser etching on leather.
This opened up a whole world for us, specifically allowing for designs that are too detailed for us to carve by hand, and the potential for scaling up our production.
In September of 2014, we ran a Kickstarter campaign (
https://kickstarter.com/projects/tactilecraftworks/tactile-craftworks-atlas-series
) and raised the funds to purchase our own laser cutter, which we received in October. It has completely changed our business.
Our laser-etched goods still require a huge amount of handcrafting: cutting, beveling, dyeing, sealing, and stitching. We'll never give up the hand carving, but we love incorporating the modern technology into the old world craft.
What projects have you done that you're especially proud of?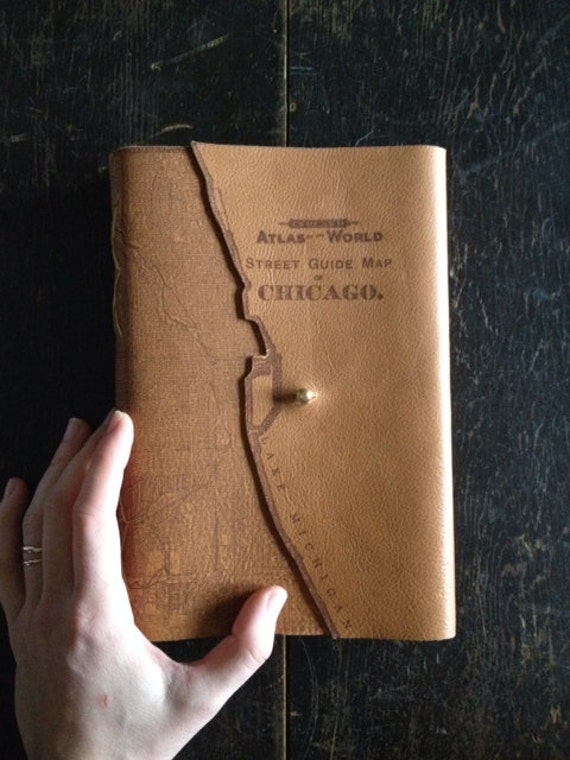 Atlas Series - Chicago journal
Our Atlas Series! This is the project that inspired the Kickstarter Campaign, and the response assured us to expand our work. We have created two Map Books, Milwaukee and Chicago, that take their inspiration from 1890s maps of the cities.
After we alter the maps digitally, we laser etch them onto leather before hand binding them with blank paper to create journals. This will be a growing project for us, we have many cities on our list.
What resources helped you when you were first getting into craftwork?
We have tried to learn as much as we can from anywhere we can. Local museums, college courses, public workshops, Kickstarter, even YouTube are all huge resources for us. We have asked incessant questions of the employees at our leather supplier.
Our craft is most inspired by history, other makers, and currently, the outdoors. We consider ourselves lucky to be a tiny part of a traditional craft, and we feel a sense of responsibility to work hard at it. We try to honor the craftsmanship that has come before us, while trusting our own eyes and aesthetic.
Finished Leather Flask
We often wish that we could hold every morning meeting in a canoe. In all reality though, some of our best ideas have come from looking at textures and colors outside, taking cues from antique photographs of mountains or canyons, and researching historic signs of the
National Park System
.
We strive to use materials to create goods that make sense in those places.
What are some tips you can offer people just starting out with a small, creative business?
Always keep striving to do what you do, better. Trust in your taste and stick to your guns, but be willing to learn and never be afraid to fail - that's when you'll learn the most.
We love this quote from Ira Glass:
"Do a lot of work. It is only by going through a volume of work that you will close that gap and your work will be as good as your ambitions."
That's an excellent quote! Thank you Anna and Sarah for telling your story and sharing your amazing talents.
Where can we find out more about what you're doing?
Our website:
tactilecraftworks.com
On Facebook:
Tactile Craftworks
On Instagram:
Tactile Craftworks
On Twitter:
TactileCraft
---
Final Thoughts
This special Maker interview has been awesome from beginning to end. If you would like to see more Maker stories like this, be sure to leave a comment. If you'd like to share your story here, let me know that, too!
As always, I've been Terran Marks for DIY Blacksmithing.
Thanks for reading!